School Performance
For information about our latest OFSTED inspection please click on the links below.
Standens Barn Primary School
Key stage 2 SATs Results
KS 2 Results for 2020 & 2021:
Due to the Covid pandemic statutory tests were cancelled.
We are very pleased with our end of year Key stage SAT results. Particularly, again, because of the progress that the children have made. It is great that we are doing so well by the end of Year 6 with the number of children getting level 4 and 5, but what is even better is the percentage of children making the progress expected of them.
We continued to work hard, not just for your child to make progress year-on-year, but for them to make progress over the time they are with us from Reception to Year 6. From developing their ability to read letters into reading books and developing their comprehension. From starting to make marks and write letters into composing whole pieces of writing in a variety of styles. From the basics of counting and adding cubes to the ability to add, subtract, divide and multiply at speed and solve problems. This all leads up to the end of Key Stage 2 tests undertaken in Year 6.
In 2016, a more challenging assessment system was introduced by the Department of Education. Alongside this, a new methodology was used to record progress for children and this centres around expected progress of 0. But the differential variance also needs to be taken into account for reliability.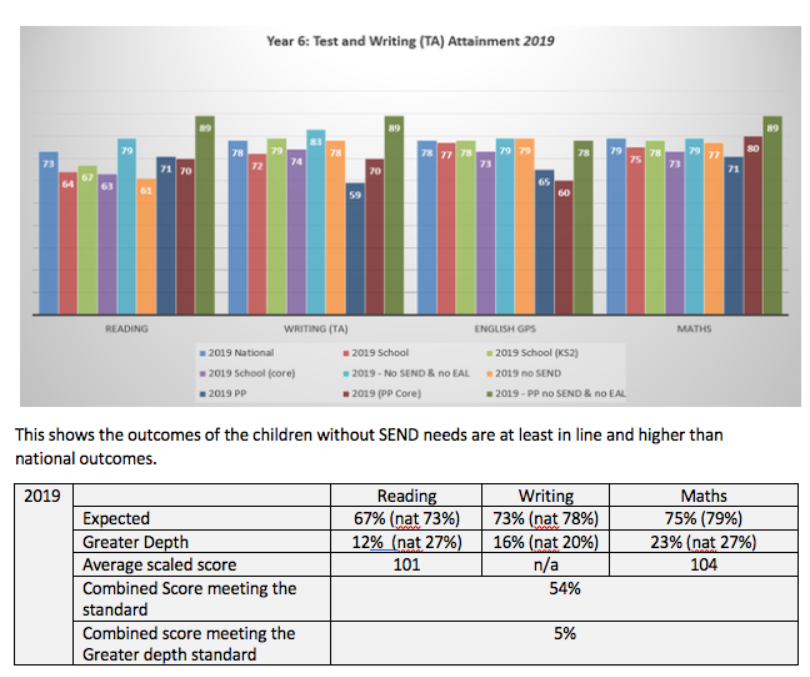 Further information can be found at the School Performance Website here: